Save Energy with Professional Attic Insulation in Ocala, Leesburg & The Villages FL Areas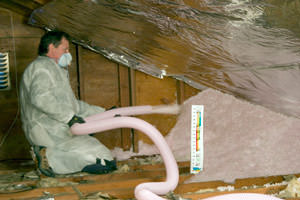 Blow-in or blown fiberglass insulation is a good choice when insulating your attic. A special machine shreds the fiberglass and then blows it through an application hose to properly cover and insulate the space. Dr. Energy Saver can provide blown cellulose, blown fiberglass, fiberglass batts or denim batts for different applications.
The Benefits of an Attic Insulation Upgrade:
Cut your heating & cooling costs by as much as 40%
Provide comfort to rooms that are either too cold or too hot
Permanent improvement that will never require maintenance or wear out
Improve the performance of your HVAC System
Save energy and lessen your home's carbon footprint
Upgrading attic insulation is a VERY popular energy-saving improvement because more energy (and money!) is lost through the attic than through any other part of the house.
What makes matters worse is improperly or poorly installing inadequate attic insulation. Existing attic insulation in many homes may be as minimal as R-19-- which pales in comparison to the recommended R-value!
Going through a cold winter with so little insulation is like wearing a t-shirt in a snowstorm. What your house really needs is the equivalent of a thick down-filled parka.
The U.S. Department of Energy recommends between R-49 and R-60 of attic insulation in Howey in the Hills, Clermont, Montverde, and other areas. That's at least a 16-in.-thick blanket of fiberglass insulation!
Insulating your attic to recommended levels can cut heating and cooling costs by 20% or more.
If inadequate attic insulation is costing you money,
Dr. Energy Saver can help.
Contact Us For A FREE Insulation Estimate
Importance of Insulating Attics
Larry Janesky explains that insulation is also needed in warmer areas. Insulation prevents heat transfer. It prevents hot air from being transferred to the outside in the wintertime and prevents the attic's scorching heat from being transferred into the living areas of your home during the summer.
We install attic ladders!
If your attic is difficult to access, Dr. Energy Saver Central Florida has the solutions you need! Our attic ladders will give you easy access to extra storage in your attic.
We install both wood and aluminum pull-down ladders, allowing you to choose the best option for your home. Our ladders come rated for load capicities ranging from 250 to 375 pounds, ensuring you get a ladder that can handle your needs.
Our ladders install quickly and fit smoothly with your ceiling. If you desire, the door can easily be painted to match the room its in. When we install an attic ladder, you can count a durable product that looks great and can handle all your needs.
Start Saving Energy and Money With An Attic Insulation Upgrade.
Call 1-855-544-4070 or contact us online to schedule a free Estimate for home insulation in Montverde, The Villages, Clermont, Sorrento, Eustis, Howey in the Hills, and in and around Mascotte, Bushnell, Oxford, Lady Lake, Mount Dora, Belleview, Anthony, Fruitland Park, and surrounding cities and towns.